Everyone has unique skin tones and types, making it seemingly impossible to find the perfect under-eye concealer. However, with a little effort and knowledge you can easily pick out one that will suit your individual needs! Here are some tips to help you find the perfect concealer for your unique needs.
Start by identifying your skin type. Is it oily, dry, or a combination? Knowing this information will help you narrow down the selection. If your under-eye area is prone to dryness, look for a hydrating concealer that won't settle into fine lines and wrinkles. On the other hand, an oilier skin type may benefit from a matte finish product that can provide coverage without appearing greasy.
Next, determine your under-eye color. If you have dark circles or discoloration, it's important to select a concealer with the right amount of coverage and tone. Go for one slightly lighter than your skin tone rather than matching it exactly. A light shade can help neutralize any darkness and make you look more awake and refreshed.
Finally, consider the finish of the product. If you have dry skin and wrinkles, it's best to opt for a creamy formula with light-reflecting particles that will help disguise fine lines. Oily skin types should look for oil-free formulas that won't clog pores or cause breakouts.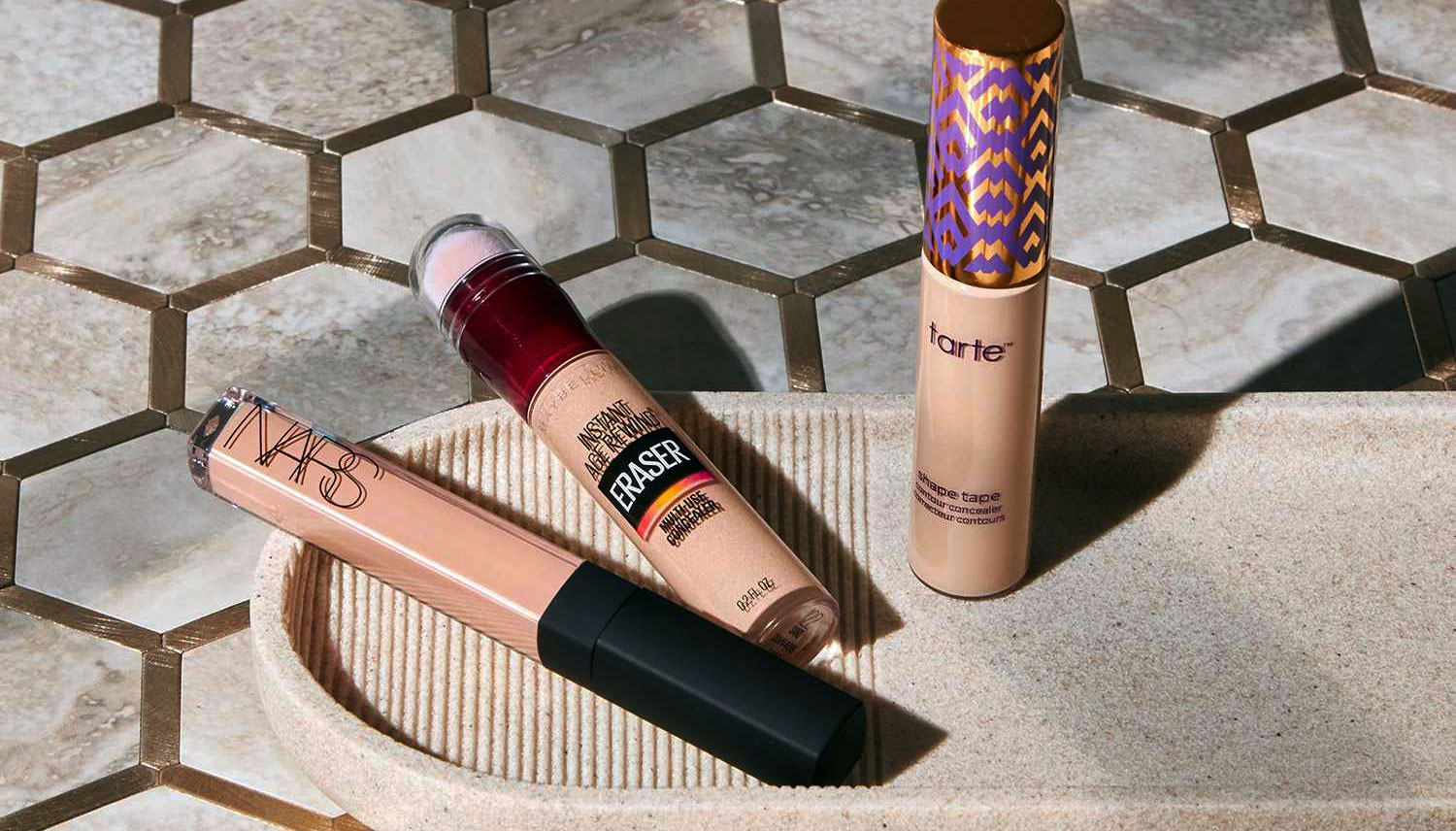 Different types of under-eye concealers
When selecting the right concealer for your under-eye area, there's no shortage of options! From lightweight formulas designed to brighten and illuminate heavy coverage sticks meant to cover dark circles or blemishes, you can find a range of shades that work with all skin tones. Whether you want something natural looking or full-on glamour makeup looks – tucked away in your beauty arsenal is an array of fabulous under-eye concealing heroes!
The most common types of under-eye concealers are:
1. Liquid Concealers: Liquid concealers are often lightweight and layerable for a natural finish. They can be applied with your fingertips, a brush, or even a beauty blender. These formulas have great coverage and blend easily into the skin, making them an ideal choice for concealing dark circles or hyperpigmentation.
2. Cream Concealers: These concealers are thicker than liquid formulas and often have more coverage. They can provide enough coverage to hide blemishes and dark circles, but they can also be layered up under foundation or setting powder for an even more flawless finish.
3. Color Correctors: If you have dark circles or redness, color correctors are your new best friend! These concealers come in shades of green, yellow, and lavender to help neutralize any discoloration on the skin. They can also be used to conceal blemishes and other imperfections.
4. Stick Concealers: These concealers come in a stick form, making them easy to apply. They provide medium to full coverage and have a creamy texture that blends well into the skin. They are great for concealing discoloration, dark circles, and even blemishes!
5. Highlighting/Illuminating Concealers: These concealers have a slightly dewy finish, making them ideal for brightening the under-eye area and creating a luminous glow. Many highlighters and illuminators can also be used on other areas of the face to add dimension or highlight certain features.
No matter which type of under-eye concealer you choose, the key to a successful application is blending! Make sure you blend in any excess product so that your concealer looks natural and seamless. With the right under-eye concealer, you can create a flawless makeup look in no time!